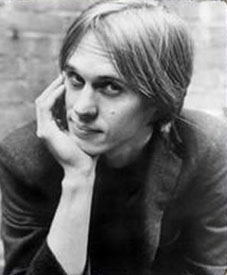 "Uh, ¿invisible dices? Bueno, es fácil ser invisible si de verdad lo deseas. Es sólo una cuestión de actitud"



"Es extraño lo atractiva que puede ser la indiferencia" ("The Scientist Writes a Letter", Tom Verlaine)



"Me gusta pensar que soy invisible. Le encuentro muchas ventajas. Desafortunadamente, el negocio musical no funciona así. Si no creas algún tipo de imagen pública, la crean los demás por ti".
Puede que a eso sea a lo que se ha dedicado estos últimos años, a hacerse lo más invisible que le permiten sus necesidades. Afortunadamente nos quedan sus discos, una obra que, revisada hoy, se nos muestra mucho más variada y compleja, y al mismo tiempo más accesible, menos esquinada que cuando fué publicada.
"Songs and other things",
a pesar de desconcertar en una primera escucha (¿para qué empezarlo con otro instrumental cuando simultáneamente publicas uno entero, "Around", sin palabras?; además, uno diría que retorcidamente, coloca las canciones más ásperas al principio), pero poco a poco nos va descubriendo sus encantos.
Los solos suenan menos espectaculares, más concentrados pero igual de efectivos, y aunque uno puede echar en falta alguno de esos largos monólogos guitarreros que sólo él parece oír, a cambio nos compensa con un sinfín de dibujos, melódicos a veces, más rudos otras, siempre inconfundibles, que arropan una colección de canciones que barren de un plumazo el mal recuerdo de
"The Wonder".
A veces creando ambientes que discípulos aventajados como
Yo La Tengo
frecuentan, como en
"A Stroll";
otras revisitando algo que podríamos llamar folk rock neoyorkino en
"Orbit"
o la majestuosa
"The Earth is in the Sky";
componiendo las canciones que ya no hace
Lou Reed ("Lovebird Asylum Seeker");
subiendo los amplis para atacar un riff de esencia garajera en
"All weirded out",
o divirtiéndose trazando espirales sicodélicas durante
"The day on you".
No, no es
"Flash Light"
o
"Dreamtime",
si es que alguien lo esperaba, pero, por si hacía falta demostrarlo, por mucho que su nombre llene la de boca de unos y otros, nadie suena como
Tom Verlaine.
No se si en un mundo en el que las novedades duran menos de un suspiro, todavía hay gente que esté dispuesta a dedicar el tiempo que discos como éste necesitan. Puede que a veces no nos ponga las cosas fáciles, pero más que nunca necesitamos a personajes como
Tom Verlaine,
sin miedo a volverse invisibles en un ambiente en el que los asesores de imagen vuelven a ser importantes, todavái ajenos ajenos al devenir de modas que vienen y van y no nos dejan más que hojarasca.
--Ultrasónica
buffer....