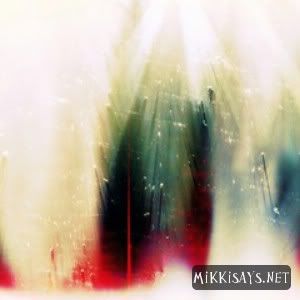 The War On Drugs se encuentra una vez más en los borrosos bordes de la música americana: sobreexposición de limitaciones de estudio, acumulación de tapes & tapes a la máxima densidad, y luego - con cada canción - quitar los andamios para revelar como se adhirió, dejando sólo lo que es absolutamente necesario y profundizar en lo que suena como la mejor clase de mierda. Como en su debut, Wagonwheel Blues, toman pequeños momentos que ocurren sobre multiples cintas y multiples versiones de canciones, y ponen hasta la última gota de confianza en su propio instinto del momento.
Future Weather es un provocativo - a veces juguetón, a veces de peso - vistazo al proceso de esculpir canciones de War On Drugs, un proceso que sigue siendo un gran misterio incluso para aquellos que están en él. Si bién algunas bandas se contentan meramente con estar de paso a la sima , The War On Drugs pasa a través de ella. Y en el camino, el futuro del tiempo deja de lado toda connotación asociada con el formato de EP. Hay una unión verdadera y simetría aquí, una de wash & drone, de tono & momentum, pero también de tema. Amistad, lealtad y mantener unida la hermandad espiritual son los temas sobre los que pone el foco el compositor Adam Granduciel para Future Weather. "Se pregunta dónde van mis amigos / ¿Se pregunta por qué no me llevan / Mirando por la ventana de mi habitación / mirando por donde algo una vez corrimos salvajes", canta en "Brothers" con un sentido de agria paz, dejando de lado todas las cosas correctas, dejando allí las experiencias compartidas de sus propios amigos. Hay señales tomadas de nuestros mejores compositores de América, sin embargo, The War On Drugs son lo suficientemente sabios para implosionar o enviarse a sí mismos al espacio exterior cuando el momento lo requiere.
Read the Original Here
o en
Secretly Canadian
buffer....